My birthday gift this year was a long weekend skiing in Jackson Hole. (In 2011 Ted planned a trip to Venice for my birthday -0 that is, he surprised me with the plans and tickets on my birthday, then we actually went a week later. That was such a success that we have since been to Lisbon (2012) and Seattle (2014) for my birthday weekend. In 2013 we had just moved to Oregon, so we did local things and adopted our cats that weekend, instead.) It was great – not a good year for snow there, by their standards, but that still left us enough for pretty decent skiing.
I had forgotten how tiring skiing is – not the skiing itself, so much, but the walking around in skiboots, from the lodge to the lift, down stairs to the restrooms, and so on. Also we hadn't been on skis in about a decade, and one thing I do remember is that the better you get, the more you let gravity do the work. Unfortunately I wasn't feeling confident enough to go very fast, so I was using lots of muscle to turn and slow down a lot. We didn't get lessons because we only had two days on the slopes but next time I definitely will. Also I will do more endurance-training workouts before hand – I was pretty exhausted hiking up a mountain two weeks ago, too, so at least some of this weekend's fatigue was just about conditioning, I think. (Or maybe I really do need those thyroid pills I'm taking – still too soon for them to have had any effect.)
But it was beautiful there, and it was good being outside on the snow. The weather was surprisingly warm (unfortunatley this made for wet heavy snow on Sunday, though Saturday was better). It definitely left me wanting to go again, a lot sooner than 10 years from now.
Only airport inside a national park:

Me at the top of the gondola and then looking out over the slopes:

And now, with this and the Venice trip, I can say I've ridden both kinds of gondola on my birthday trips (though technically the previous pics were at the top of the gondola, and these are of the tram, which goes even higher):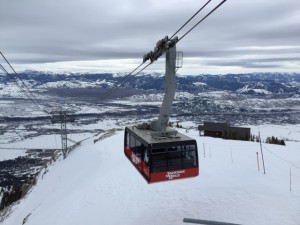 Also, good shopping in the town of Jackson. These hover perilously on the line between fabulous and ridiculous, but I finally caved and bought them (50% off! and very comfortable). I'm wearing them today under boot-cut jeans but I think they'll be cute with short dresses too.: